[ B I O G R A F I ]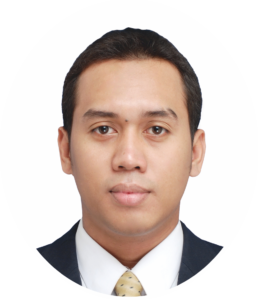 Mukhammad Rizka Fahmi Amrozi, S.T., M.Sc., Ph.D.
Department of Civil and Environmental Engineering
Faculty of Engineering, Universitas Gadjah Mada
Jl. Grafika No.2 kampus UGM, Yogyakarta 55281 INDONESIA
Phone & Fax : +62-274-545676
website : tsipil.ugm.ac.id
weblog  : amrozi.staff.ugm.ac.id
mail : fahmi.amrozi@ugm.ac.id – fahmi.amrozi@gmail.com
Room : R.313, 3rd floor, Transportation Laboratory, DTSL FT UGM

Summary of Professional Experience:
A lecturer, researcher, and freelance consultant with more than ten years of experience in transportation systems and engineering projects. Experience in both academic research and professional consultancy on a wide range of transportation projects, including transportation planning and modeling, road asset management, freight transport/logistics, traffic safety and sustainable urban transportation.
Research Interests:
– Transportation Engineering and Management
– Transport Planning, Modeling, and Safety
– Intelligent Transport System
– Freight Transport and Logistics
Education:
CIVIL ENGINEERING, UNIVERSITY OF BIRMINGHAM
– Doctor of Philosophy (Ph.D.)
– Birmingham, United Kingdom (2015-2020)
– Research Subject: Accessibility and Road Asset Management to Support Regional development
MASTER PROGRAM IN TRANSPORTATION SYSTEM AND ENGINEERING, UNIVERSITAS GADJAH MADA (MSTT-UGM)
– Master of Science (M.Sc.)
– Sandwich program: MSTT-UGM, Indonesia, with Linkoping University, Sweden (2008-2011)
– Research Subject: Intelligent Transport System and Transportation Modelling
CIVIL AND ENVIRONMENTAL ENGINEERING, UNIVERSITAS GADJAH MADA
– Sarjana Teknik (S.T.)
– Yogyakarta, Indonesia (2004-2008)
– Research Subject: Pavement Material Engineering
Recent activity:
– Lecturer at Departemen Teknik Sipil dan Lingkungan (DTSL FT UGM)
– Lecturer at Magister Sistem dan Teknik Transportasi (MSTT-UGM)
– Freelance Consultant
Teaching:
Basic class (bachelor)
– Gambar Teknik (Engineering Drawing)
– Perancangan Geometrik Jalan
– Perancangan Perkerasan Jalan
– Perancangan Bahan Perkerasan
– Perancangan Bangunan Teknik Sipil
– Pelaksanaan Perkerasan Jalan
– Topik Spesial-Transportasi
– Manajemen Lalu Lintas
– Pengantar Manajemen Perkerasan Jalan
– Pengantar Perencanaan Transportasi
– Pengantar Teknik Transportasi
– Perangkat Lunak Teknik Sipil
– Teknik Jalan Rel
– Pengantar Angkutan Barang dan Sistem Logistik
Advanced class (postgraduate):
– Metode Analitik (Analytic Method)
– Perencanaan dan Pemodelan Transportasi (Transport planning and Modelling)
– Sistem Manajemen Perkerasan
– Ekonomi Transportasi
– Manajemen Keselamatan Lalulintas
– Audit Keselamatan Jalan dan Analisis Resiko Lalulintas
– Studi Pre dan Post Kecelakaan