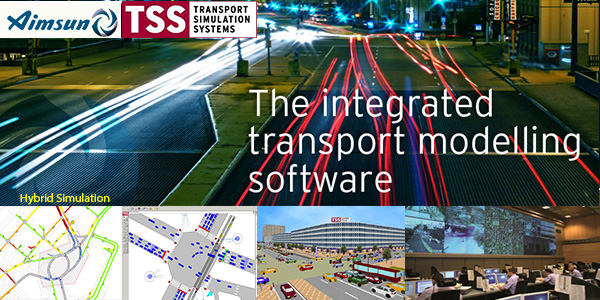 Aimsun stands out for the exceptionally high speed of its simulations and for fusing travel demand modelling, static and dynamic traffic assignment with mesoscopic, microscopic and hybrid simulation – all within a single software application.
Software AIMSUN sangat cocok digunakan untuk perencanaan komprehensif, karena dapat mensimulasikan dan memodelkan assignment baik static maupun stocastic dynamic. AIMSUN mampu mengintegrasikan macro-meso-micro dalam satu software terpadu (hybrid system) sehingga akan mempermudah sinergi perencanaan jangka pendek/insidensial dan jangka panjang. Selain itu, AIMSUN akan sangat dibutuhkan ketika intrumen ITS (intellegent transport system) diimplementasikan di jaringan jalan dan menuntut update secara real time dengan kebutuhan decisiion making sytem yang cepat dan optimal terkait informasi dan pengaturan arus lalu lintas.
Software dapat didownload di: 
http://www.aimsun.com
TRIAL VERSION
versi trial Aimsun tidak memerlukan file lisensi atau kunci aktivasi (gratis).
Untuk men-download versi trial Aimsun, silakan download di www.aimsun.com.
OS yang dibutuhkan:
versi 32-bit Windows Vista ©, 7, 8 atau 8.1
versi 64-bit Windows Vista ©, 7, 8 atau 8.1
versi 64-bit dari Ubuntu Linux © 12,04 distribusi kompatibel
versi 64-bit dari Mac OS X 10.7 atau © 10,8 atau 10,9
Batasan TRIAL VERSION :
– Lisensi free trial berakhir 30 hari setelah instalasi.
– file hanya bisa di jalankan tetapi tidak bisa disimpan.
– Kemampuan menyimpan data (save) hasil running ke dalam disk / database eksternal dinonaktifkan.
– Legion untuk Aimsun modul (pejalan kaki) pada versi free trial ini tidak tersedia (hanya pada versi berbayar).
– Scripting tidak tersedia (hanya tersedia pada versi berbayar).
Segera setelah Anda menyelesaikan instalasi, klik pada tab Tutorial pada layar pengantar untuk menemukan contoh jaringan (network) yang akan memberi Anda gambaran tentang luasnya Aimsun dari aplikasi, kecepatan dan kemudahan (user friendly). Selain itu, pada versi Free Trial disediakan salinan pdf file dari Manual AIMSUN (user's Manual) yang meliputi setiap aspek dalam simulasi dan pemodelan software Aimsun secara rinci.
Lisensi penuh dapat dilengkapi dengan modul pilihan sebagai berikut:
– interface: Emme dan SATURN
– Kontrol Adaptif Interfaces: ETRA, SCATS, SCOOT, Pemelihara kuda, Telent, Telvent, UTOPIA, VS-Plus dan Zgz Prio.
– Aimsun API (Application Programming Interface)
– Aimsun microSDK
– Aimsun platformSDK
Untuk informasi lebih lanjut tentang fitur Aimsun, spesifikasi teknis dan edisi, silahkan kunjungi website www.aimsun.com.
Info harga software atau jika Anda memerlukan informasi tentang Aimsun dalam bahasa lain, silahkan email ke info@aimsun.com.